OVERVIEW ORCA SEA KAYAK TRIPS
2018 Sea Kayak Adventures
Join us on a "Vacation with a Spirit of Discovery"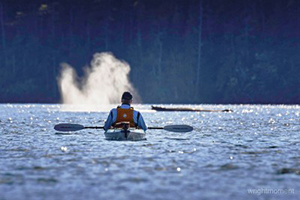 2018 Orca Explorer: 4 Day Base Camp Trip
Orca Explorer is our longest running (more than 16 years) and most popular Sea Kayaking trip for couples, families, and groups of friends. Two basecamps are used on each of these trips, weather permitting.
You are comfortably transported to either our Blackfish Sound or Sophia Island established basecamps that are outfitted with everything you need to comfortably enjoy a wilderness adventure travel experience in Johnstone Strait and Blackfish Sound. These areas are the best locations on the BC Coast to view large numbers of marine mammals in their natural habitat. A couple of the highlights of our trips involve paddling near the Michael Biggs/Robson Bight Ecological Reserve and chatting with summer whale researchers or the reserve wardens.
The researchers and wardens love to enlighten us as to which pods have newborn Orcas or which Humpback Whales they have been watching on a daily basis.
Trip Dates: June – September 2016 (Monday-Thursday, Thursday-Sunday)
Trip Cost: @ CAD$1250 per person
Family Rates: (2 adult/2 children) start @ CAD$3500
2018 South Broughton Explorer Nomad/Base: 4 Day Trip
South Broughton Explorer is a four-day sea kayaking trip that explores the clusters of islands that make up the southern portion of the Broughton Archipelago. Our kayaking runs along the edge of areas where both Humpback whales and Steller sea lions live and play. Each day, we venture through remote passages and clusters of islets rich in marine life and perfect for a day of whale watching and sea kayak adventures.
This trip highlights a visit to a native site with visible remains of a past culture and an opportunity to see a variety of land based animals from otters to black bears. Whales are observed just off basecamp and along kayaking routes we use daily.
Our adventure travel trips start at a well established basecamp. We also have the option of using other camps hidden amongst the small islands of the South Broughton Marine Park.
Trip Dates: July – September
Trip Cost: CAD$1195 per person
Family Rates: (2 adult/2 children) start @ CAD$3200/USD$
2018 North Broughton Nomad: 6 Day Trip
North Broughton Explorer is a six-day sea kayak trip that explores the heart and beyond the South Broughton, including passageways, tidal lagoons, and exposed coastline in the North portion of the Broughton Archipelago. Our established campsites are surrounded by lush coastal rainforest.
These trips take in the true wilderness areas of this Marine Park. Large tidal lagoons are full of wildlife that is seldom seen on open water shorelines. The sheltered waterways allow us perfect waters to explore.
Trip Dates: Late June – October
Trip Cost: @ CAD$1350 per person
Family Rates: ( 2 Adults/2 teens) start @ CAD$5200
2018 Beyond Broughton Nomad: 6 Day Trip
Beyond Broughton Nomad is a six-day sea kayak trip that explores the inlets and waterways North of the Broughton Marine Park. Our trip starts at a scenic float house on a quiet inlet embraced by wilderness. Our route takes us from sheltered waters into the open waters of Queen Charlotte Sound and the edge of the Western islands and islets of the Broughton Marine Park. For five days, we will explore the outside reaches of an exposed coastline with a great variety of wildlife and great fishing.
This is a trip for paddlers and adventurers who wish to venture on a trip that will not see other paddlers but will engage the adventure in your soul. Maximum time to explore waters rich in marine life. Ending at a camp on the outside on an islet where it is hard not to get a photo of a never ending sunset This adventure travel trip is always full of surprises and delightful marine mammal encounters. This trip starts at 8:30 AM the morning of departure and ends upon our return to the office in Port McNeill at 3:00 PM on the final day of our trip.
Trip Dates: Late June – October
Trip Cost: @ CAD$1350-$1550 per person
Group Rates: start @ CAD$5200
2018 Float House Based Trips
Our NEW Float House Based Trips offer you the comfort of quaint cabin accommodation combined with the adventure you seek everyday on a kayaking trip. Booking this trip early would be in your best interest.
This trip offers you a soft bed and a warm place to sleep at night. We believe this helps you keep your energy up to enjoy each day of adventure we have planned for you. Days are filled with a relaxed approach to sea kayaking, whale watching, and other wildlife viewing.
Sea Kayaking on this trip will be a combination of exploring the rugged islets of the Burdwood Group, Viner Sound, and the Benjamin Group just North of Echo Bay. You will be shuttled into this area and shuttled back to Port McNeill on the final day of your trip.
Trip Dates: Custom Dates Available 2018
Trip Costs: CAD$1250 – CAD$1550 per person
Family Rate: (2 adults/2 teens) start @ CAD$4800
2018 Desolation Sound Nomad: 4-Day Sea Kayak Trips
Desolation Sound is a great place to start the sea kayak season for 2016. This is a great add on to a fun trip to start the summer. This trip departs from Campbell River, BC. A short, scenic voyage in our support boat quickly takes you into the heart of Desolation Sound and later back to Campbell River. These 4-day trips are designed to provide maximum time to sea kayak and enjoy the abundant wildlife of the early and late summer. Our dates are set to provide you with a trip in which you can enjoy the snow capped peaks of the area along with the warm water paddling.
Trip Dates: June 02-05, June 13-16, June 16-19, Sept 05-08, Sept 08-11, Sept 12-15, Sept 15-18
Trip Cost: CAD$950 Adults, CAD$850 Youth under 16
Family Rates: (2 adults/2 children) start @ CAD$3200
2018/9 Baja Magdelena Bay Nomad: 4-Day Sea Kayak Trips
The west coast of Baja offers sea kayaking and exploring in a landscape of long sandy beaches with Magdelena Bay on one side and the open Pacific Ocean on the other side.
Our adventure travel trips are unique in the fact that we use established camps on Magdelena Bay. Here, we can experience all that Baja has to offer in sea kayaking and wildlife. Our trips take you from paddling open water to paddling quiet estuaries of mangroves with viewing the birdlife as a treat. Often, Humpback and Gray Whales are seen as we make our way from one camp to another.
Camps are established close to good fishing and within sight of wildlife. Access to the long sandy beaches of the Pacific side are within a few kilometers walk from camps. Hike in the nearby hills for panoramic views of the surrounding landscapes.
Our dates are set for February and March of 2016. We are operating 4-day trips on most weeks and finishing the season on a 6-day trip. Our experience tells us that this is the best time to visit this area of the West Coast of Baja.
Trip Dates: February 21st – March 16th 2018
Trips Costs: US$950 – per person
Group Rates: (group of 4 – US$3400)
A quick look back at the summer of 2017!
Amazing summer for whales and WEATHER!  We experienced many beautiful days with flat calm waters and sunshine. Sunset were remarkable on most nights. And the star shows were equal to the calm and clear skies of the days.
In the early part of the summer, it was the eagle show that got our attention.  Off Whytecliff that one day, we counted 60 eagles feeding on surfacing schools of herring. Wildlife and marine life took its time showing up in large numbers. But when they did in mid July, they staying around for the following two months until the CHUM salmon run was finished. The humpback show was the highlight of the summer. Many days of feeding, bubbling and open mouth feeding behaviours. Taking pictures and videos was easy with calm waters and sun.
Kayaking days were exciting. Many folks got the best out of the favorable conditions. Put this one in the history books.
Thanks to all the folks who came with us in the summer of 2015!
As the summer of 2015 began, we waited for the fog to roll into Johnstone Strait, but instead we had day after day of flat calm waters with NO FOG. The Sun blessed us just about every morning of July and August. September was a nice surprise with a little precipitation and sun everyday.
It was a light year for salmon runs, but the Chinook run was strong all summer. A large number of chum salmon replaced the other species early in August, and this brought in the sea lions in large numbers. The favored Orca pods were A42, A24 and A25's, although we did see the I-15 pods, and enjoyed "G" calls one evening as we sat around the campfire listening to the hydrophones via radio.
The sea kayaking in 2015 was promoted by calm waters down deep the Chinook numbers were strong. We had bluebird skies. Many thanks to all who ventured north to take our excursions in past seasons.
Changes are in the works for the 2016 season with the restoration of a six day trip through the heart of the Broughton Marine Park and a trip called, " 6 Day Beyond Broughton Trip ." Also, our "3 day Float House Based Trips" will be staged from a new quaint Float House location offering more sheltered sea kayaking for all of us. We are going to revisit the " 4 day Baja Magdelena Bay Trips" departing from the small town of San Carlos.
Have a great winter and take a look at our Baja Escape in Feb – March 2016 & 2017.