2019 Orca Explorer is our longest running (more than 17 years) and most popular sea kayaking trip for couples, families, and groups of friends. One island basecamp is usually used on each of these trips. Camp is situated on an island in a Park Conservancy that is on the route of major whales in the core area of Johnstone Strait. We also have an option to access  a second campsite if conditions with wildlife and weather become an issue.
Trip starts with our own water taxi ride to Sophia Island. If whales are sighted on the way to camp we stop and see which pod it is and what direction it is traveling. Camp is in a spectacular spot where you can see whales from the shoreline at various times of the day. Large tents are used situated on platforms with roofs and beds. A gazebo, large cookhouse, showers, tub and composting toilets are all maintained for the summer. We are in one of the locations on the BC Coast to view large numbers of marine mammals in their natural habitat. A couple of the highlights of our trips involve paddling near the Michael Biggs/Robson Bight Ecological Reserve and chatting with summer whale researchers or the reserve wardens.
Kayaking is exceptional, with frequent encounters with wildlife everyday of your trip. Guides are great teachers and take time to explain the fundamentals of kayaking to encourage you to improve everyday. We drop in on researchers during our kayaking and are updated what whales are in the vicinity and if we have any new baby Orca or Humpback in the mix. If you are looking for a special experience with sea kayaking, eating good food and enjoying folks from other background, consider this trip for your bucket list.
Per Person:  CA$1295
Family Rates: Start @ CA$4000 (2 adults/2 youth under 16)
Trip Deposit:  CA $250 per person
TRIP DEPARTURE DATES
Trip Days:  Monday – Thursday  (Custom Days Available)
May 17-20, June 03-06,  June 10-13
,  
June 17-20
,  
June 24-27
July 01-04
,  
July 08-11
,  
July 15-18
,  July 22-25, July 29-01
August 05-08,  August 12-15, August 15-18, August 19-22,  August 26-29, August 30-02
September 02-05, September 06-09, September 09-12, September 16-19, September 23-26
TRIP ITINERARY
Arrival Day: Arrival in Port McNeill is usually late in the day because of the travel distance or the plane connections to Comox Valley Airport.
Pre-trip meeting at our shop at Suite B 455 Pioneer Drive. Port McNeill @ 7:30 pm the evening before your departure date.
This meeting is scheduled to introduce you to your guides, check your gear, fit PFDs, fit a paddle and answer any questions you might have about the trip. We will familiarize you with a double sea kayak and review our route on the marine chart of the area.
DAY 1: JOHNSTONE STRAIT – ROBSON BIGHT
Boat transport to camp with a time for whale watching.  Part of the morning is set side for whale watching, so you can hear and see whales thus recognizing their familiar breathing sounds and daily behaviors.  Time for a few photos and we then proceed to basecamp.
Unloading time is quick and our beach is user friendly for folks of all ages.Time will be given to getting familiar with your kayak. Guides will start you out on a sheltered water paddle always with an opportunity to encounter wildlife spontaneously. Often the first wildlife viewing from kayaks are eagles, otters and harbor seals.
As the day unfolds into that afternoon expect to venture into an area of coves, beaches and small groups of islands. Return is always before 4 pm unless whale encounters occur. Darkness does not come until 10 pm. After dinner we progress to a early evening beach fire and.
Your guides will monitor hydrophones to let you listen for whale vocalizations and identification of pods of whales before you see them. Most folks will be heading early to bed to sleep in their comfortable tents and rest up for the full day planned for tomorrow.
DAY 2: JOHNSTONE STRAIT – BLACKNEY PASSAGE
This will be our second day to enjoy sea kayaking. An early start is usual to catch wildlife at first feeding or see whales on the first passage of the day. Whale activities are spontaneous but their travelling is predictable. We work with a network of Whale Watching boats and other kayak operators to monitor the movements of Orca and Humpback Whales.
Today, we will spend a great deal of our time on the water.
It is also a possible day to sea kayak from one camp to the other. Guides will make this call in the mornings after checking with our network of informants. Either way expect to kayak and explore a great deal on day 2.
Expect to take time to view eagle rookeries, whales in transit and sea lions hunting salmon.
If you at our Johnstone Strait island camp, this might be a good day to visit the beaches across the strait in the vicinity of Robson Bight.
After a healthy dinner, stay open-minded for an evening of observation, sharing photos, and recollection about the day's events around a beach fire. Over the season, as the days warm and the waters absorb increasing amounts of sun, bio-luminescence  can be seen in the water as the evening gradually turns to darkness. It might be an opportune evening to paddle out for a short sunset kayak session
DAY 3: JOHNSTONE STRAIT – BLACKFISH SOUND
On our third day we are again looking to get on the water as early as we can. Often by now folks are complaining about the songbirds or bald eagles waking them up early with the first light of the morning. If the morning presents us with a low tide, it is an opportunity to use the kayaks to float out in the shallows and take in marine life as you have never seen it. Or it may be again a good day to exchange camps in the eyes of whale activity and the direction of the current.
Regardless, this is a day to take in maximum time to explore by paddling from one camp to another or staying local and checking out spontaneous wildlife and bird life activities.
Our network of supports and our ability to monitor hydrophones gives us a step up on these wildlife events.Sometime in the afternoon or early evening we will take a look at a special part of the rainforest. Our walk through the forest might allow a glimpse of an owl, visit old growth trees or give us an chance to stretch our legs.
As the day winds down, our focus will change to another pleasant evening with a late dinner and a beach fire special event that everyone has to experience if you come to Canada…smores!!!
DAY 4: JOHNSTONE STRAIT – BLACKFISH SOUND
Our final day is sometimes the best day of the trip so sleeping in is not an option.The morning begins with time for breakfast, a wash up and making our gear ready for the trip back to Port McNeill.  Once that is done, we can get out on the water and kayak along a sheltered shoreline that opens through a passage to a seal rookery or an eagle rookery.
Take a bit of time for pics and move onto the open water where a humpback and her calf have frequented for the past three summers. Gradually we will paddle back to camp catch lunch, load up and cruise back to Port McNeill with stops to take our last pics of Orca or visit a sea lion rookery in Weynton Passage.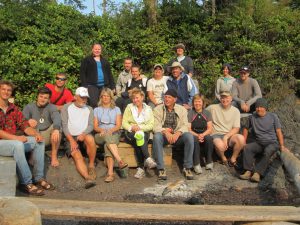 Arrival time back in Port McNeill is 2:30-3:00 pm. We will shuttle you up to your vehicles, get your luggage out of storage and enjoy our last exchange of information and pictures.
Note: Weather is always a factor in establishing daily paddling times. Tides and currents often dictate start times. We always have a plan B for days with variable weather patterns.