2017 Beyond Broughton Nomad is a six-day sea kayak adventure that explores the remote inlets and waterways to the North of the Broughton Marine Park. Our trip starts at a scenic float house (see map) on a quiet inlet embraced by wilderness. Our route takes us from sheltered waters into the open waters of Queen Charlotte Sound and the edge of the Western islands and islets of the Broughton Marine Park. For six days, we will explore the outside reaches of an exposed coastline with a great variety of wildlife and great fishing.
This is an adventure for paddlers and outdoor folks who wish to venture on a trip that will not see other paddlers but will engage in the solitude of wilderness. Maximum time to explore waters rich in marine life. Ending at a camp on the outside on an islet where it is hard not to get a photo of a never ending sunset This adventure travel trip is always full of surprises and delightful marine mammal encounters. This trip starts at 8:30 AM the morning of departure and ends upon our return to the office in Port McNeill at 3:00 PM on the final day of our trip.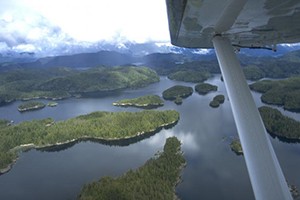 Trips Start and End at:  Port McNeill or Telegraph Cove,  BC
Trip Support Vessel:  "MV Discovery Skiff"
Trip Cost:  CAD$1350 – $1550 per person
Group Rates: start @ CAD$1350 per person
Trip Deposit: CAD$250.00 per person
Min/Max Guests: 2-8
TRIP DATES
JUNE 19-24 (**Season Starter Grp 4 – CAD$1250 pp)
JULY 17 -22
AUGUST 14-19
AUGUST 28-02
SEPTEMBER 12-17
TRIP ITINERARY
Arrival Day:  Arrival in Port McNeill is usually late in the day because of the travel distance or the plane connections to Comox Valley Airport. Pre-trip  meeting at our shop at Suite B 455 Pioneer Drive. Port McNeill @ 7:30 pm the evening before your departure date. The meeting is scheduled to introduce you to your guides, check your gear, fit PFD, fit a paddle and answer any questions you might have about the trip. We will familiarize you with a double sea kayak and review our route on the marine chart of the area.
Note: This trip is designed for folks who have paddled before. It can be a challenging journey through moving water and open passages.
Day 1: Cruise/Shuttle – Explore Scenic Inlet – 8 miles of paddling
Meet at 8:30 am out front of the Tourist Information Centre Port McNeill, BC.
Morning cruise to our first camping destination. Whale sightings along the way.
Stow gear at first camp. Explore islands and passage around camp.
Day 2: Narrows and Open Water Crossing – 12 miles of paddling
A travelling day in AM to our first campsite through a sheltered route with defined passages.
Paddling will be challenging through a narrows and crossing of large open passage.
Chances of encounter with humpback whales or traveling white-sided dolphins.
Option to do an extended paddle into a Lagoon.
Day 3: Islands of Queen Charlotte Sound – 12 miles of paddling
A travelling day in AM move to a feature camp for sunsets.
PM explore the small group islands and scenic passages with visible marine life.
Listen to a shoreline, alive with sounds of kingfishers, eagles, and myriad sea birds.
Mexican night for dinner. Small beach fire to end the day.
Day 4: Islands of Queen Charlotte Sound & Broughtons – 8 miles of paddling
Layover day with an morning paddle to visit a nearby seal rookery.
Lunch on an islet and time to explore by land.
Paddle a route back to camp where the sealions frequent.
Pasta dinner. A night for star gazing.
Day 5: Islands of the Broughtons and Entrance to Knight Inlet – 14 miles of paddling
Transit the waters where the seal rookeries attracts transcient orca.
Amazing birdlife along the route to a camp near eagle nests.
Explore the shoreline and coves of the Owl Island Group.
Day 6: Transit into waters of Blackfish Sound – 14 miles of paddling
AM pack up gear, sea kayak amongst small islets and islands.
Visit seal rookery and waters frequent by local wildlife.
After a relaxing lunch we will load our shuttle boat and begin our voyage back to Port McNeill, arriving late afternoon 2-3:00 pm