Your Kayaking Guides
Our seasoned, professional guides ensure a safe and memorable sea kayak experience.
For more than twenty-five years, we have been blessed with a staff of educated professional sea kayaking guides. We have employed a considerable number of staff and guides from a variety of backgrounds.
All our guides have a passion for introducing folks to the remarkable environment we live in on the West Coast of Canada.
Certified Sea Kayaking Guides
All of our guides are certified under provincial agencies and recertify every two years. Under the Sea Kayak Guides Alliance of BC, our guides take part in updating seasonal skills that ensure a smooth transition into our summer sea kayaking season.
Wilderness First Aid Training
Under the Wilderness First Aid Association of BC, our guides have completed a ten-day comprehensive First Aid course that ensures their abilities to deal with a mishap in the outdoor environment.
All of our guides are also required to participate in our yearly training and safety sessions before the season starts to ensure their skills are up to date.
Outdoor Cooking Experience
Our lead guides are also seasoned cooks with more than a few years of outdoor cooking experience.
Each guide attends SKGABC exchanges.
Local Knowledge
After our refresher, our guides have once again started their quest for a thorough understanding of the local weather, waters, tides, currents, wildlife, and terrain. Often, guides will split away between trips to explore new areas.
Each of our sea kayaking guides has logged a great number of hours kayaking on a variety of waters in the Broughton Archipelago and Johnstone Strait.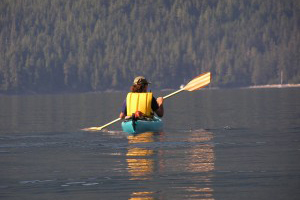 ---
Owner, Larry Roy
Larry Roy, our company owner, is an original founding member of the Sea Kayaks Guide Alliance of British Columbia (SKGABC). He maintains his membership from those first years of being the first president of this agency.
As the past twenty years have passed, the SKGABC has evolved into a professional organization that offers courses to ensure that guides are formally trained in the necessities of working in the water environment.
Larry was instrumental in developing the safety standards the SKGABC stands for. He has and will always embrace the SKGABC and maintains the necessary standard to continue guiding.
A vast number of people have paddled with Larry. His passion is spending most days of the summer and early fall on the water. He believes that harmony with nature, whether it be paddling rivers, paddling the ocean, or skiing in the backcountry, is the key to a healthy life. He has remained committed to being a practicing professional in sea kayak guiding, first aid, and weather forecasting. He maintains a healthy attitude towards improving skills in the outdoors.
He has done a variety of international trips to Mexico, Baja, and Costa Rica for both river and ocean paddling in satisfying one of his life's endeavours.
He started with a whitewater background, raced white water, and instructed white water courses. Moving to Salt Spring Island changed paddling from whitewater to sea kayaking in places like, "Active Pass." Many summers were spent exploring the many passages and inlets of Vancouver Island, Haida Gwaii (Moresby and Graham Islands) and the Central Coast of British Columbia.
He then established the first retail kayak store in the mid and north island, North Island Water Sports. Soon after that, he moved into the touring business and established the touring company, Discovery Kayaking Ltd. which is now known as, "Discovery Expeditions -orcaseakayaking."
He guided for eight years in the Queen Charlotte Islands, five years on the Central Coast, and twenty-five seasons in the Northeastern Coast of Vancouver Island and inlets of the Inside Passage, including a thorough exploration of the entire length and berth of Knight Inlet.
In order to keep his first aid skills current, Larry has spent busy winters ski patrolling on Mount Washington, Comox, BC. Here, he can enjoy skiing and maintain an active lifestyle, which helps him recycle back to successful summers of guiding folks in local waters.